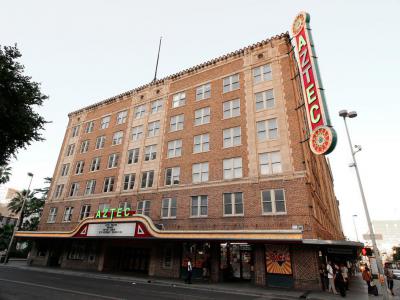 Aztec Theatre, San Antonio
One of the most decorative movie theaters in the United States, the Aztec Theatre is a premier historical multi-purpose entertainment and events facility. Officially opened on June 4, 1926, this theatre is one of the Alamo City's most cherished architectural and historical landmarks. Built at a cost of just $1.75 million, it played an important role in shaping San Antonio's cultural image as a notable example of the impressive exotic-theme motion picture palace constructed in the country during the economic boom of the 1920s.

Considered by many as a Meso-American architectural work of art, the Aztec boasts a dramatic combination of Aztec elements (massive columns, reliefs, sculpture and artifacts from ancient Mexican temples) with modern touches creating an authentic American look, complete with polychromed plasterwork, duplicating murals and other elements. From its stunning lobby and mezzanine to the glorious theatre and balcony, the Aztec offered an experience like no other. The centerpiece of its lobby was a three-ton chandelier, two stories tall and 12 feet wide, hailed as the largest in Texas at the time.

The Aztec was part of the Theater district which included the Empire (1914), the Texas (1926), the Majestic (1929), and the Alameda (1949). Although highly popular among locals for many decades, by the 1970s it had fallen into decline and been cut into three auditoriums as the Aztec Triplex, which only slowed the eventual. In 1989, the theatre was closed down. Since October 1992, the Aztec has been listed on the National Register of Historic Places, which helped save it from demolition.

With the assistance of local authorities and communities of art lovers, the theatre reopened in 2009 as a concert venue, rapidly regaining the reputation lost in the previous 30 years. Today, it is considered to be the second most visited Art-Deco landmark of the riverside walk.
Sight description based on Wikipedia.
Walking Tours in San Antonio, Texas