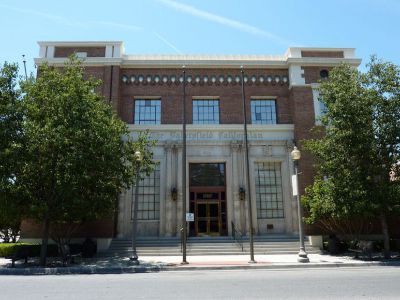 Bakersfield Californian Building, Bakersfield
The Bakersfield Californian Building is a historic office building in Bakersfield, California. The structure was placed on the National Register of Historic Places on March 10, 1983. It was built for and is currently occupied by the newspaper, The Bakersfield Californian.

The Bakersfield Californian Building consists of two structures, both faced with reddish-brown bricks and with a primary facade facing east. Originally, the four-story main building was rectangular in shape, but over time additions made it L-shaped. A detached, 900 square feet (84 m2) rectangular structure, designed as a women's rest facility, is located at the northeast corner of the larger one. Exterior brick pilasters on the secondary sides cover the structural steel. The main entry on the eastern facade consists of seven wide granite steps which lead to polished brass double glass doors. The entry is divided into three sections by columns, each features a large, rectangular opening. The two side sections hold large, multipaned windows and heraldic shields above, one with the name of the architect. The center section, framed by Corinthian columns includes the main door along with a multipaned transom. The parapet above the sections is inscribed with "The Bakersfield Californian"; a later renovation placed a new inscription, using a new font, in front of the original inscription.
Sight description based on wikipedia
Bakersfield Californian Building on Map
Walking Tours in Bakersfield, California