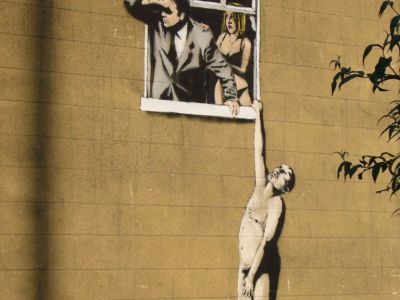 Banksy - Well Hung Lover, Bristol
Well Hung Lover, aka Love Cheat, is a stenciled graffiti depicting an adulterous couple: a suited man on the left, and a woman in lingerie on the right, touching his shoulder. The suited man is the woman's husband, and, suspecting her of having an extramarital affair with the naked man hanging from a windowsill by his right arm (his left arm covering his genitals), is looking out of the window to search for him.

Banksy suitably painted this provocative piece – showing him at his finest, playing on words to his heart's content – on the side of a building that used to be a sexual health clinic on Frogmore Street. Being approximately 5 meters (16 ft) above street level, in order to get to the appropriate height and maintain the mural's secrecy whilst creating it, scaffolding had to be erected, covered with tarpaulin. After three days, the City Council removed the scaffolding and discovered the artwork.

The clinic has since relocated, but the mural is still in place despite the Council's policy to crack down on graffiti. When the Council bought the building from the member of the band Massive Attack who had commissioned the piece, it surveyed the people of Bristol, 97% of whom voted for keeping the graffiti in view, as it "brightened up" the area. The retrospective permission granted for the mural thus made it the first legal piece of street art in the UK.

Well Hung Lover is a dedication to the insolent attitude of Bristol. Unfortunately, it was damaged by paintball attacks, but – hey – that's part of the game, innit!
Banksy - Well Hung Lover on Map
Walking Tours in Bristol, England