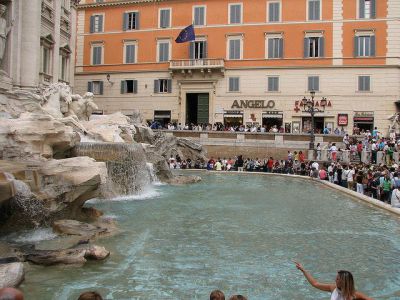 Barber Shop at Trevi Fountain: The Haircut, Rome
After bidding farewell to Joe Bradley at his apartment, Ann embarks on a leisurely walk back to her palace, savoring the charms of Rome's narrow streets. Engrossed in the vibrant street life, she finds herself captivated by a young Italian woman with a chic, short haircut emerging from a barber shop. Intrigued, Ann decides to seize the moment and enters the establishment, requesting the services of the barber, Mario Delani, to transform her own locks. This particular shop was situated to the east of the iconic Trevi Fountain, a renowned landmark dating back to 1629. Specifically, it could be found at Via della Stamperia 85, just to the left of the grand rectangular entrance. However, in present times, the shop has transformed into a leather goods store, adapting to the changing times.

Meanwhile, Joe Bradley, ever the opportunist, attempts to discreetly borrow a camera from a young American girl at Trevi Fountain, aiming to capture a candid shot of Ann during her haircutting adventure. Today, much like in 1953, the Trevi Fountain remains a bustling attraction, teeming with tourists eager to witness its grandeur. It's worth noting that this Baroque fountain also played a significant role in Fellini's iconic film "La Dolce Vita" in 1960, further cementing its place in cinematic history.
Barber Shop at Trevi Fountain: The Haircut on Map
Walking Tours in Rome, Italy
Useful Travel Guides for Planning Your Trip
---