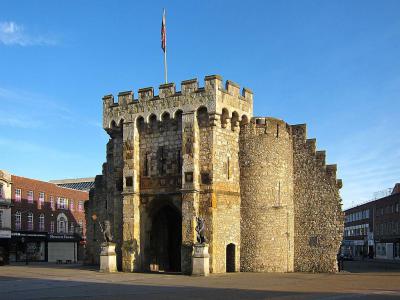 Bargate, Southampton
Bargate is an impressive medieval gatehouse that was built around 1180. Located in the center of High Street, Bargate was the traditional entrance and main gateway to Southampton. Bargate is praised as the finest and most complex gateway in England.

Bargate was built with flint and stone. In 1280, builders added imposing drum towers on the north side. Then, in the early 1400s, the north front was added.

At some point during the 1400s, Southampton began using Bargate as a prison. Then, during the 16th century, Southampton's court leet started meeting in the Bargate.

The Bargate was used as Southhampton's guildhall and market for centuries. Visitors can still see the vaults where merchants stored wine.

The fabled lion sculptures were added during the 16th century. The lions are thought to symbolize the legend of Sir Bevois, who founded Southhampton. Sir Bevios is the subject of many heroic legends, including a legend that tells of Sir Bevois slaying two lions to protect a princess. The lions were restored in 2020.

Visitors will find 11 heraldic shields on the Bargate's north side. Unfortunately, the original shields decayed with time, and many attempts have been made to restore them.

In 1899, 1914, and 1923, council members debated demolishing Bargate to accommodate increasing road traffic. Instead, the town council decided to separate Bargate from the town walls.

During WWII, Bargate was used as an air-raid shelter.
Walking Tours in Southampton, England