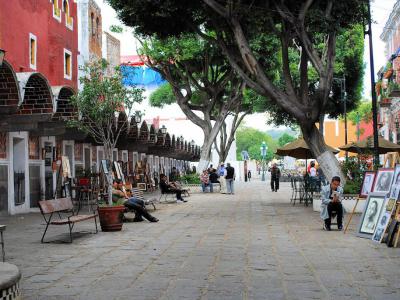 Barrio del Artistas (Artist Quarter), Puebla
The Artist Quarter (Barrio del Artistas) is an iconic artists' zone of Puebla with numerous spaces for artists to work and exhibit. Most of the members of the Artist Quarter are painters, but there are also sculptors and at least one musician.

There are more than 45 workshops in the neighborhood that allow visitors to watch as artists learn and practice their crafts. There are exhibitions of these works of art every 15 days. The artists' union also mounts exhibits that travel throughout Mexico each year.

The neighborhood emerged in 1941. It was founded by brothers artists Jose and Angel Marquez Figueroa, both teachers at the Academy of Fine Arts in Puebla. They approached the governor, Gonzalo Bautista Castillo, with the plan of creating an area for artists to practice their trade. The governor granted them a location for an artists' collective, the Union of Plastic Arts of Puebla.

Today the Artist Quarter is a popular area with cafés and studios and a brightly colored colonial square. The visitors can relax on a bench and admire the artistic treasures to be found all around this bohemian and dynamic zone.
Barrio del Artistas (Artist Quarter) on Map
Walking Tours in Puebla, Mexico