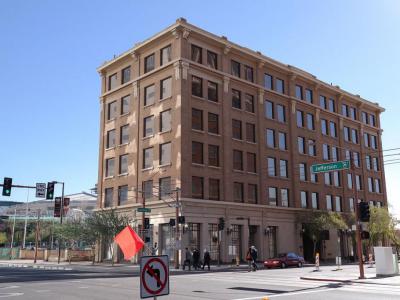 Barrister Building (The "Psycho" Building), Phoenix
The Barrister Building was built in 1915 as the Jefferson Hotel. When it was built, it was the tallest building in the state. It was celebrated for its rooftop garden and modern features.

The building's claim to fame is its brief cameo in the 1960 Alfred Hitchcock film Psycho. The film was set in Phoenix, and the building was used during the opening sequence.

The city owned the building from 1990 onward, and it sat vacant most of the time. In 2016, the city sold the building to a private developer. The high-rise is now home to high-end condominiums, some of which cost more than $1 million. There are also shops and restaurants. The building, now called Jefferson Place, has been preserved and still appears much as it did in its earlier years. Eventually, the project is set to expand with new high rises in the area, but none of them will shadow the original Barrister Building.
Barrister Building (The "Psycho" Building) on Map
Walking Tours in Phoenix, Arizona