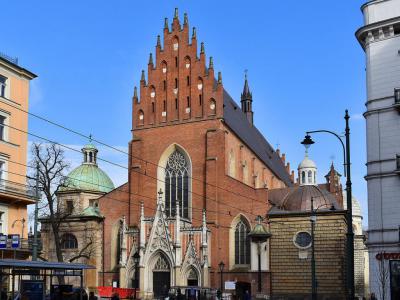 Basilica of Holy Trinity, Krakow
Presiding over the vicinity in its Gothic grandeur is the large Dominican temple, known as the Basilica of Holy Trinity. Ever since established in the mid-13th century, this church has been the stronghold of the Black Friar brotherhood in Krakow. In 1850 the building suffered severe damage from fire that had claimed one-tenth of the city. Sadly, the ensued reconstruction didn't do a particularly good job on the original, leaving behind traces visible today, albeit not to an untrained eye.

The Dominican friary adjoining the Basilica was founded by Saint Jacek Odrowaz, who is widely known internationally as San Jacinto. He died in Krakow in 1257 and his relics are enshrined in an upstairs sanctuary-chapel.

In 1289 Duke Leszek II the Black, the then ruler of Poland, was also interred in the temple, next to the high altar. Over the next few centuries, the Holy Trinity church had served as a resting place for many of Polish aristocrats. Among the notable mausoleums found here is the Chapel of Saint Dominic (Kaplica sw. Dominika), otherwise known as the Chapel of the Myszkowskis (Kaplica Myszkowskich), the second last in the right-hand aisle, dating back to 1614 and adorned with bas-reliefs of the 16 members of the Gonzaga-Myszkowski family buried inside. At some point, the image of Saint Dominic placed in the chapel's altar in 1642 became famous for miracles.

In 1957, Pope Pius XII bestowed on Krakow's Holy Trinity church the title of a minor basilica.

Today, the Basilica is open from 7 am to 8 pm or longer, but tourists are advised against visiting when there is a service. On Sundays and major Catholic holidays, the Holy Mass takes place at 8 am, 9 am, 10.30 am, noon, 1.30 pm, 3.30 pm (except for July and August), 5 pm, 7 pm, 8.20 pm, and 9.30 pm. On weekdays and Saturdays it is held at 7 am, 8 am, 9 am, noon, 5 pm, 6 pm, and 7.30 pm.
Basilica of Holy Trinity on Map
Walking Tours in Krakow, Poland