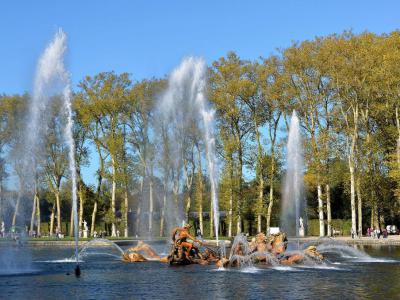 Bassin d'Apollon, Versailles
When Louis 13th used what is now the Chateau of Versailles as a hunting lodge, he had a pond created, which was called the Bassin des Cygnes. When Louis 14th began to expand the lodge, he had the pond transformed into the magnificent Bassin d'Apollon you can see today.

In 1668 the king commissioned the sculptor Tuby to create something that would represent a mythological figure in connection with the king himself. Tuby turned to the artist and decorator, Claude le Brun, for help.

As Apollo is the Sun-god and Louis 14th was known as the Sun King, it didn't take le Brun long to come up with an idea. Tuby based his statue on le Brun's drawings and worked from the Manufacture des Gobelins on his masterpiece, which took two years to finish. It was cast in lead with the gilding added in 1671.

The statue, which stands in the centre of the pond in front of the Grand Canal, is of Apollo emerging towards the east from the sea on his chariot, which is drawn by four horses. Surrounding the chariot are four Tritons, blowing on their horns to announce the new day, and four dolphins. At Apollo's feet lies the figure of a cherub or perhaps a child, which represents Amour.
Walking Tours in Versailles, France