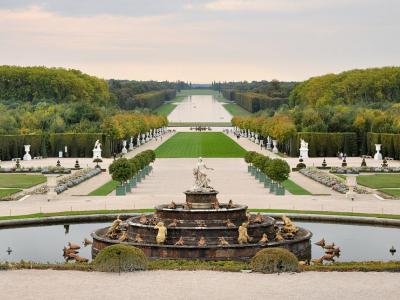 Bassin de Latone, Versailles
(must see)
The gardens of Versailles are full of water features and one of the most famous is the Bassin de Latone.

It was designed by the famous landscape gardener André le Notre and built in 1670. The magnificent central fountain was sculpted by Gaspard and Balthazar Marsy.

The fountain looks a little like a wedding cake with its four tiers and centre figures. However, instead of the bride and groom you find on top of a wedding cake, the main statues represent the goddess Latone and her two children Apollo and Diana. On the three other tiers are statues of men and women, frogs, lizards and turtles.

According to Roman mythology, the goddess Latone fell in love with Jupiter. Hearing that she was pregnant, Juno – Jupiter's wife – chased Latone from heaven. On earth the unfortunate goddess gave birth to her twins, but when she went to wash them and drink from a fountain in Lycia, the people refused to let her approach the water.

Latone cried out to Jupiter, who punished the people by turning them into frogs, lizards and turtles. Ovid mentions this legend in his famous work "Metamorphoses", which inspired the Marsy brothers in their creation.

The fountain is an incredible example of 17th century hydraulics but over the centuries it is inevitably falling into ruin. A recent restoration program has been launched, with repairs estimated at about 7 million Euros.
Walking Tours in Versailles, France