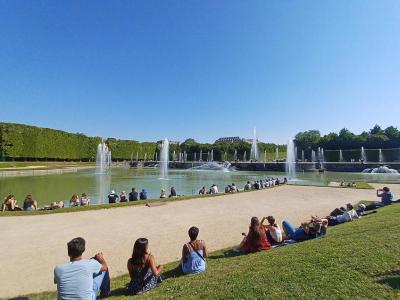 Bassin de Neptune, Versailles
(must see)
One of the most popular of Versailles ponds is the Bassin de Neptune, which is the largest pond in the gardens. It lies at the extreme northern end of the north-south axe that includes the Orangerie, the Parterre d'Eau and the Fountain of the Dragon.

The original pond was constructed by André le Notre in 1681 and was called the "Pool below the Dragon". It was modified in 1740 by Ange-Jacques Gabriel and the statues of Neptune and his wife Salacia, the minor water-god Proteus and the Titan water-god Oceanus where created by Lemoyne. The Bassin boasts 99 water features in all.

It is surrounded on three sides by gently sloping lawns, which in the summer are filled with spectators as a floating stage is set up on the pond for musical and firework displays to delight the crowds.

From June to the end of August, Versailles hosts the Grandes Eaux Musicales, or Fountain Shows. All the fountains are turned on each weekend and present a superb display set to baroque and classical music.

If you are lucky enough to be in Versailles during July and August, you can enjoy wonderful nocturnal displays of music, water and stunning lighting effects.
Walking Tours in Versailles, France