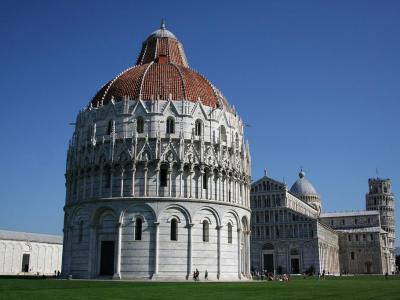 Battistero di San Giovanni (Pisa Baptistery), Pisa
(must see)
Construction on the Pisa Baptistery began in 1152. Designer Diotisalvi signed an interior pillar with the date 1153, but the Baptistery wasn't completed until 1363.

The impressive marble Pisa Baptistery is the largest baptistery in Italy and stands at 54.86 meters (180 feet) tall, making it almost as tall as its neighbor, the Leaning Tower. The lower portion represents Romanesque styling, whereas the upper sections with pointed arches are Gothic.

Two classical columns flank the portal. The lintel has two tiers. The lower tier portrays several scenes from John the Baptist's life. The upper tier shows John the Baptist surrounded by Christ, the Madonna, and angels.

The interior features 12 columns that represent the 12 apostles. A bronze sculpture of John the Baptist stands in the center of the baptismal font. The font's three steps represent The Father, Son, and Holy Spirit. Famed astronomer and scientist Galileo was baptized here in 1564.

The pulpit was sculpted by Nicola Pisano and completed in 1260. The artistry represents a new focus on more realistic art and represents the beginning of the Italian Renaissance period.

The Pisa Baptistery was built on the same sand as the leaning tower and leans 0.6 degrees. Visitors can climb to the viewing level and look out over the Piazza dei Miracoli (Square of Miracles).

Tips

Every half an hour, a guardian comes in to say a few words and demonstrate Pisa Baptistery's unique acoustics. This is a good time to be on the upper viewing level, as the acoustics here are impressive.
Battistero di San Giovanni (Pisa Baptistery) on Map
Walking Tours in Pisa, Italy