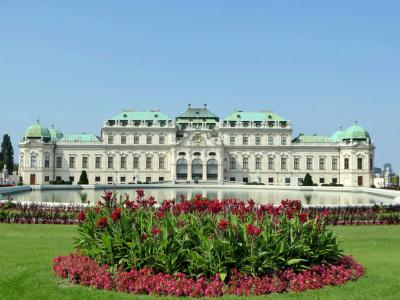 Belvedere Palace, Vienna
(must see)
The Belvedere palaces served as the summer residence for Prince Eugene of Savoy during the 18th century. They were designed and constructed by the renowned Baroque architect Johann Lucas von Hildebrandt. This architectural ensemble includes the Upper and Lower Belvedere buildings, along with the Orangery and Palace Stables, surrounded by extensive gardens. Recognized as one of Europe's most impressive Baroque landmarks, it has earned a place on the UNESCO World Heritage List.

Presently, the Belvedere houses an extensive collection of Austrian art spanning from the Middle Ages to contemporary times, featuring both domestic and international artists. The Upper Belvedere not only showcases artworks spanning over five centuries but also offers the opportunity to explore its splendid staterooms.

The art collection at the Belvedere offers a comprehensive overview of Austria's artistic evolution, providing valuable insights into the nation's history. The Upper Belvedere is home to the world's largest collection of Gustav Klimt's paintings, including iconic pieces like "The Kiss" (1908/09) and "Judith" (1901), as well as works by Egon Schiele and Oskar Kokoschka. Additionally, the museum boasts significant holdings of French Impressionist art and the most extensive collection of Viennese Biedermeier art, making it a must-visit cultural destination.

Why You Should Visit:
As well as being home to some of Klimt's most famous creations, the collection, in general, is vast and the building itself is remarkable.
Not only is the building a sight to behold but the grounds are magnificently maintained too, just as you would expect them to be.

Tip:
To wait in a shorter line, purchase your tickets online in advance.
Make sure to leave the time to stroll through the gardens either on the way to or from this wonderful palace.
Walking Tours in Vienna, Austria
Useful Travel Guides for Planning Your Trip
--- Top 16 Austrian Things to Buy in Vienna
Vienna stool, Viennese schnitzel, Viennese waltz, Vienna sausage, Viennese apple strudel... There's so much Vienna to it, that you might think you've heard it all. Luckily, chances are that you haven't and there's much more in store left to be discovered about this fascinating... 7 Ultimately Austrian Foods to Taste in Vienna
Once the center of the vast Hapsburg Empire, stretched from France in the West to Russia in the East, Austria has embraced many ethnic influences in its cuisine over the course of centuries. Many of the country's distinctive dishes reflect its multinational heritage. Coffee culture, for...