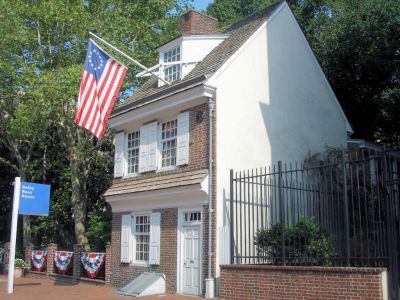 Betsy Ross House, Philadelphia
(must see)
The story goes that Mrs. Eizabeth Claypoole, also known as Betsy Ross, had a visit from George Washington in 1776. She persuaded him, some say, that a five-pointed star was better than a six-pointed star. Betsy was an upholsterer, and she had been making flags for the Pennsylvania Navy. Flags were her specialty.

True or not, this captivating tale was told by her grandsons, William and George Canby, in the 1870s. People loved it, and it became a popular national legend. Number 239 Arch Street in Philadelphia is where Betsy is said to have lived with her third husband, John Claypoole. The house is a restoration done by architect Richardson Okie in 1940.

The "Betsy Ross" house that stands today may have been the house used by Betsy for her business. The residence of Betsy and her husband was adjacent to the present house. The houses next door were demolished and turned into a courtyard.

Richardson Okie used materials from the demolished houses in his restoration. A brick structure was built behind the house. Windows and a dormer were replaced. The whole property was gifted to the city of Philadelphia in 1941. In 1974 the courtyard was provided with a fountain.

As part of the American Bicentennial of 1976, city authorities moved the remains of Betsy and her husband, John Claypoole. They were reinterred in the courtyard of the Betsy Ross House. Betsy is thought to have resided in the house from 1776 until 1779.

John Ross, Betsy's first husband, a member of the militia, died in a gunpowder explosion. Her second husband, Joseph Ashburn, a mariner captured by the British, died in prison in Plymouth, England. John Claypoole was a fellow prisoner. He knew Ashburn. Betsy married Claypoole in 1783.

The Betsy Ross House is traditionally the site of Philadelphia's celebration of Flag Day. This legendary woman lived and worked here for a few short years when the Great Experiment began. Whatever else she may have done, she made flags.
Walking Tours in Philadelphia, Pennsylvania
Useful Travel Guides for Planning Your Trip
---