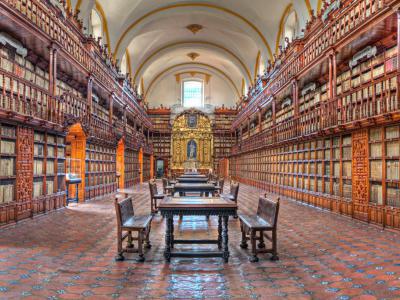 Biblioteca Palafoxiana (Palafoxiana Library), Puebla
(must see)
The Palafoxiana Library (Biblioteca Palafoxiana) is a historic library in Puebla City, Mexico. Established in 1646, it holds over 45,000 books and manuscripts, ranging from the 15th to the 20th century. It is the first and oldest public library in the Americas.

The library was named for Juan de Palafox y Mendoza, Bishop of Puebla. Palafox y Mendoza donated 5,000 volumes to the College of San Juan to create a library.

The building that holds the Library Palafoxiana was completed in 1773 at the behest of Francisco Fabian y Fuero, a Spanish Roman Catholic Bishop. In addition to Palafox y Mendoza's donation, Fabian y Fuero donated his books and those of bishops Manuel Fernandez de Santa Cruz and Francisco Pablo Vazquez. In addition, books confiscated from Jesuits and religious schools were placed in the library. The oldest text in the library is "The Nuremberg Chronicle," one of the best-documented early printed books written by Hartmann Schedel in 1493.

The Palafoxiana Library is listed on UNESCO's Memory of the World Register. The library is open Tuesday through Sunday from 10 AM to 6 PM.
Biblioteca Palafoxiana (Palafoxiana Library) on Map
Walking Tours in Puebla, Mexico