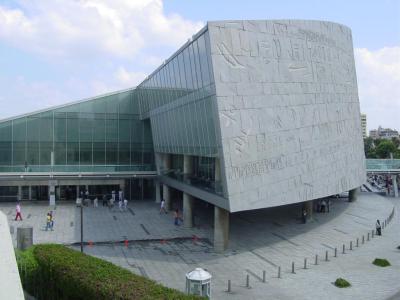 Bibliotheca Alexandrina, Alexandria
(must see)
The Bibliotheca Alexandrina is a major library and cultural center located on the shore of the Mediterranean Sea. It is both a commemoration of the Library of Alexandria that was lost in antiquity, and an attempt to rekindle something of the brilliance that this earlier center of study and erudition represented. The idea of reviving the old library dates back to 1974, when a committee set up by Alexandria University selected a plot of land for its new library, between the campus and the seafront, close to where the ancient library once stood.

The Bibliotheca Alexandrina is trilingual, containing books in Arabic, English and French. In 2010, the library received a generous donation of 500,000 books from the National Library of France which makes it the sixth-largest Francophone library in the world. The main reading room stands beneath a 32-meter-high glass-paneled roof, tilted out toward the sea like a sundial, and measuring some 160 m in diameter. The walls are of gray Aswan granite, carved with characters from 120 different human scripts. The dimensions of the project are vast: the library has shelf space for eight million books, with the main reading room covering 70,000 sq.m. (750,000 sq ft) on eleven cascading levels. The complex also houses a conference center; specialized libraries for maps, multimedia, the blind and visually impaired, young people, and for children; four museums; four art galleries for temporary exhibitions; 15 permanent exhibitions; a planetarium; and a manuscript restoration laboratory. The library's architecture is equally striking.
Sight description based on Wikipedia.
Bibliotheca Alexandrina on Map
Walking Tours in Alexandria, Egypt