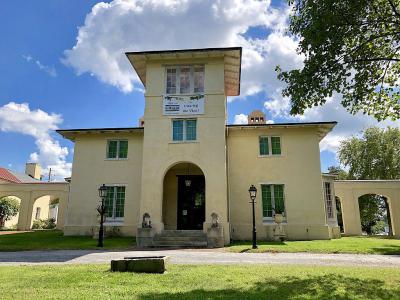 Blandwood Mansion, Greensboro
(must see)
Blandwood Mansion, originally built as a four room Federal style farmhouse in 1795, is the restored home of two-term North Carolina governor John Motley Morehead. Blandwood is the oldest building on original foundations in the city of Greensboro. Originally located within a rural context, it is a remarkable survivor of urban development as the city grew around the house. Its primary national significance is its role as the earliest identified Tuscan Villa in the United States (1844).

Architect A. J. Davis designed the building to resemble villas of Tuscany (though he never visited Italy) using wide overhanging eaves, low rooflines,casement windows, stucco-on-brick veneer, and most notably the tall prospect tower which dominated the facade. Davis adaptively reused the existing free-standing kitchen by expanding its size and matching it with a nearly identical building on the other side of the house, creating freestanding hyphen wings with arcades. The building is also a rare example of grand antebellum architecture in the Piedmont section of North Carolina - a territory characterized by small farms and a relatively small enslaved population.

The building was purchased reserved by Preservation Greensboro Incorporated, a citywide non-profit organization dedicated to historic preservation in 1966 as a museum. The nonprofit initiated a program of restoration, including paint analysis, archaeological investigation, a furnishings plan, reconstruction of dependencies, and restoration of surrounding gardens. Many items original to the house were returned by members of the Morehead family in the 1960s and 1970s. It was placed on the National Register of Historic Places in 1970, and recognized as a National Historic Landmark in 1988. The house is recognized by architectural historians as the "Embodiment of the antebellum 'spirit of improvement,'" in North Carolina, and the "most important building in Greensboro."
Sight description based on Wikipedia.
Walking Tours in Greensboro, North Carolina