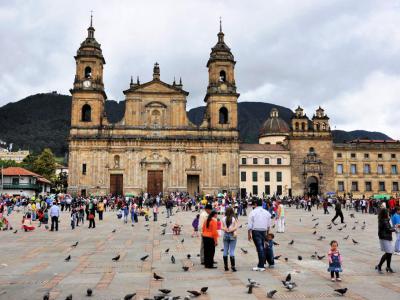 Bolívar Square, Bogota
(must see)
In 1537, Gonzalo Jimenez de Quesada, a Spanish explorer and conqueror in northern South America, defeated Tisquesusa, the fourth and last independent ruler of the southern Muisca Federation. In 1538 Gonzalo Jimenez founded the City of Bogota, the capital of the New Kingdom of Granada, currently known as Colombia. A year after the foundation of the Colombian capital, the Spaniards built their first cathedral on a corner of the main square of Bogota, known today as Bolivar Square.

Bolivar Square was the civic center of Old Bogota. Circuses, cultural and religious events, and bullfights were popular manifestations here. The Royal Appellate Court, a Jesuit school, the Holy Chapel, and the Viceroyalty Palace were built during the colonial period. The Primary Cathedral was built in 1823 by friar architect Domingo de Petres.

The Bolivar Square hosts an imposing statue of Simon Bolivar, a Venezuelan soldier, and statesman who played a central role in the South American independence movement. The statue was sculpted by Italian artist Pietro Tenerani in 1846 and was the first public monument in the city. The square is bordered by Street 10 in the south and Steet 11 in the north. The Avenue 7 and 8 are on the east and west sides respectively.

Nowadays, the square is surrounded by historical buildings such as the Palace of Justice with the Supreme Court; the National Capitol, the seat of Congress; the Liévano Palace, the seat of the mayor; the Vase House also known as the Museum of the 20th July, site of the Call for Independence in 1810.

Bolívar Square is the main tourist attraction in Bogotá and the site for various manifestations and protests. Bolívar Square is declared a national monument in October 1995.
Walking Tours in Bogota, Colombia
Useful Travel Guides for Planning Your Trip
--- Enjoying Onces in Bogota
Elevenses, on the surface, seem to be a particularly British tradition, a break for something light and sweet between breakfast and lunch, a time to gossip, a time to catch up, a time just to be. Lo and behold, Colombia somewhere along the line adapted this tradition in a particularly Latin fashion.... 18 Uniquely Columbian Things to Buy in Bogota
To those who understand Russian, the word "Bogota" sounds very similar to the one translating as "rich". And, indeed, the city does live up to this name connotation in terms of peculiar things worth exploring in addition to coca, coffee and emeralds. Here's the longer list...