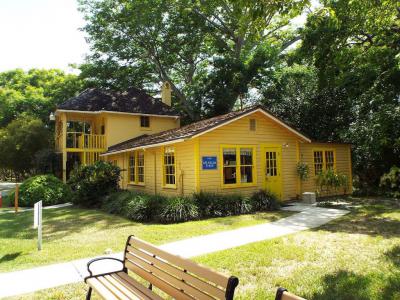 Bonnet House Museum and Gardens, Fort Lauderdale
(must see)
Bonnet House Museum and Gardens is a historic house museum. It consists of the main house, an art studio, a music studio and a guest house. The gardens include native plants, forest, an orchid house and beachfront access to the Atlantic Ocean. A particular plant that can be found on the grounds is the bonnet lily, from which the house gardens gained their name.

The property was originally purchased in 1895 by attorney Hugh Taylor Birch. In 1919, Birch gifted the land to his daughter Helen and her new husband. Helen married Frederic Clay Bartlett, an artist who is known for his vast art collection. The plantation home was built in 1920 as a winter residence for the couple off a design created by Bartlett himself. He used vernacular architecture in his design with materials and inspiration having been gained from the local environment.

Sadly, Helen died soon after the buildings were completed. Bartlett then married Evelyn Fortune Lilly who helped to make the estate what it is today. Among her contributions to the land was wildlife. She brought approximately 40 monkeys to live onsite in the tropical forests. She also refurbished the home with many of the decorative elements and art that are still found on the grounds. It was Evelyn who gave the estate to the Florida Trust for Historic Preservation.

Bonnet House Museum and Gardens appears on the National Register of Historic Places. Visitors can take self-guided tours Tuesday through Sunday. The house and gardens are located on a coastal island south of Hugh Taylor Birch State Park.

Why You Should Visit
- To see five distinct ecosystems in one location
- To enjoy the art studio that was once used by Frederic Clay Bartlett

Tips
Admission to Bonnet House Museum and Gardens is $20 for adults and $16 for children ages six to 12. Visitors are welcome to picnic onsite with a paid admission.

Operation hours: Tuesday – Sunday: 9:00 – 16:00.
Bonnet House Museum and Gardens on Map
Walking Tours in Fort Lauderdale, Florida