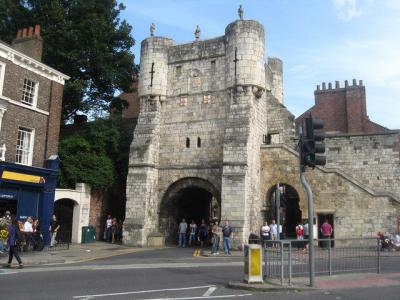 Bootham Bar, York
Although much of Bootham Bar was built in the 14th and 19th centuries, it also has some of the oldest surviving stonework, dating to the 11th century. It stands almost on the site of Porta Principalis Dextra, the northwestern gate of Eboracum. It was named in the 12th century as "barram de Bootham", meaning bar at the booths, after the nearby market booths. It was the last of the bars to lose its barbican, which was removed in 1835.

One interesting historical anecdote is that in 1501 a door knocker was attached to the bar's entrance in order to prevent Scots from entering the town. Nowadays, of course, all are welcome. Be sure to check out this historical landmark when visiting York.

Why You Should Visit:
This is the closest gate to the Minster and between here and Monk Bar you will find the most popular and attractive section of the City Wall. Unparalleled views of gardens, Minster, university, neighborhoods.

Tip:
The first floor has a square paved area which is worth a look round before you go to the walls via a black steel gate.
Walking Tours in York, England