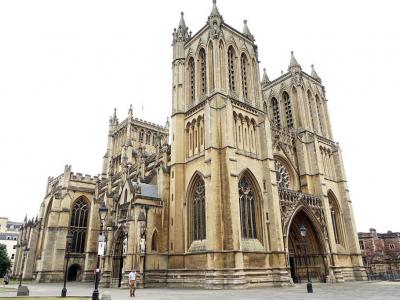 Bristol Cathedral, Bristol
(must see)
Bristol Cathedral is a Church of England cathedral that was founded in 1140. The original church, St. Augustine's Abby, was completed in 1148, though little of this structure remains in place.

The current building was constructed between the years 1220 and 1877. Each phase of building fell under a different abbot and a different architect, which is why the architectural styles are so varied. Different components of Bristol Cathedral are designed in the Norman, Gothic and Gothic Revival architectural styles.

Among the many notable features of Bristol Cathedral are the stained glass windows. Many of the windows were replaced in the 1800s though some were replaced after the Bristol Blitz during World War II and other features date as far back as the 14th century.

The cathedral has a number of monuments, most of which are dedicated to abbots and bishops. Also of interest to most tourists is the organ, which was built in 1685 by Renatus Harris.

Visitors are welcome to tour the cathedral during its open hours. It is open from noon to 1 PM Tuesday through Saturday and during daily prayer, Eucharist and evensong.
Walking Tours in Bristol, England