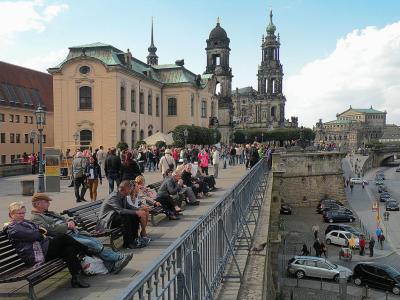 Brühl's Terrace, Dresden
(must see)
Brühl's Terrace is often called "The Balcony of Europe." This high terrace overlooks the river Elbe and is a popular place to walk, admire the architecture, and enjoy an outdoor cafe.

Brühl's Terrace was built on the city's fortifications that were rebuilt in 1547. The terrace is named after Count Heinrich von Brühl, who had a Dresden city palace. In 1747 the Saxon elector gave Brühl the terrace to thank him for introducing a betterment tax.

When Russian troops occupied Dresden in 1814, Prince Nikolai Grigorjevich Repnin-Wolkonski ordered the terrace to open to the public. At that time, architect Gottlob Friedrich Thormeyer built stairs at the terrace's western end to be accessible from Castle Square and Augustus Bridge.

The terrace's original buildings were destroyed during World War II bombing attacks. The terrace has since been rebuilt and is one of Dresden's main attractions.

The terrace features a monument for Johann Friedrich Böttger, an alchemist who invented European porcelain. Visitors can see a fingerprint near the monument in one of the garden's guard rails. This fingerprint is said to have been left by legendary Augustus the Strong.

Today's terrace buildings include Saxony's Supreme Court, the Sächsisches Ständehaus, the Academy of Fine Arts, and the Albertinum.

As you stroll the terrace, you may find many artists painting and selling artworks.
Walking Tours in Dresden, Germany