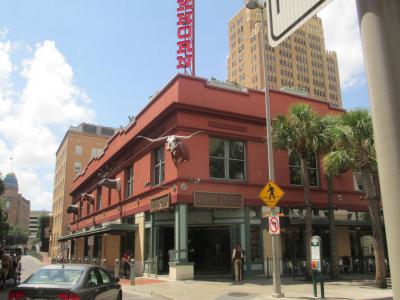 Buckhorn Saloon & Museum. Texas Ranger Museum, San Antonio
(must see)
The Buckhorn Saloon & Museum is a privately run enterprise that has became a tourist attraction for its unique collections. Teddy Roosevelt and his Rough Riders were reputed to frequent this establishment.

The Buckhorn Saloon & Museum started off as a private collection of Albert Friedrich in 1881. Friedrich eventually acquired a saloon on Dolorosa Street and put his collection on display there. In 1896, he opened the first Buckhorn Saloon on the corner of Soledad and West Houston streets. Friedrich amassed his collection from his own hunting trips, as well as from other hunters and trappers, eventually acquiring the collection of a hunter named Capt. Ernest Dosch. A collection of firearms and a mirrored bar were added to the collection of horns.

Housed in 1956 in the Old Lone Star Brewery, his collection passed on to Friedrich's heirs who had then moved it to the current location at 300 E. Houston Street. Mary Friedrich Rogers, granddaughter of Albert Friedrich, and her husband Albert Rogers, acquired the collection in 1997. The Hall of Texas History Wax Museum portion of the Buckhorn depicts historic events in Texas. In addition to the horn collection, a visitor will also find rattlesnake art, and memorabilia of both Native Americans and the cowboy culture. Among the exhibits here are The Carnival of Curiosities and The American Sideshow.

The Texas Ranger Museum features authentic Texas Ranger Division artifacts, including automatic handguns, shotguns, badges, photographs and more. The museum also features Ranger Town, a recreation of San Antonio at the turn of the century, featuring a replica Buckhorn Saloon, jail cell, blacksmith shop and a replica of the 1934 Ford V8 Deluxe — the famous Bonnie & Clyde getaway car. The Texas Ranger Museum is not affiliated with the official Texas Ranger Hall of Fame and Museum in Waco.

The Museum opens at 10 am everyday. Closing times vary.
Sight description based on Wikipedia.
Buckhorn Saloon & Museum. Texas Ranger Museum on Map
Walking Tours in San Antonio, Texas