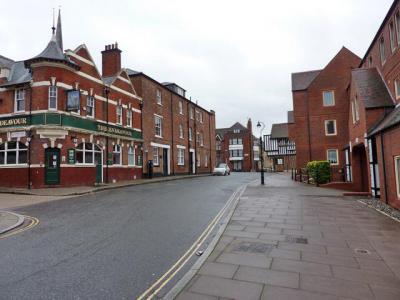 Bugle Street, Southampton
Bugle Street's name comes from the Latin word "Buculus," or young bull. It is sometimes called Bull Street, but it also refers to the bugle-horn, made initially from young bulls' horns.

The street runs from St. Michaels Square to the Town Quay. Upper Bugle Street was historically made up of Fish Street and Pepper Alley, connecting north from St Michaels Square to Simnel Street.

The street was one of the original laid out within the city's stone medieval walls. Today it is still lined with many historic and beautiful buildings.

Notable sights along the road include the Royal Southern Yacht Club on the south end. The building stands on the corner of Bugle and the pier. It was opened in 1846 and designed by architect Thomas Sandon Hack. The magnificent building centers around a state and ballroom. There was even an 11-gun battery for signaling the starts of races or for celebrating birthdays.

Other attractions along Bugle Street include the must-see Tudor House and the Duke of Wellington Pub.

Most of the other homes and businesses along the route were built between the 16th and 18th centuries. It has been said that Bugle Street is the best historic street in Southampton.
Walking Tours in Southampton, England