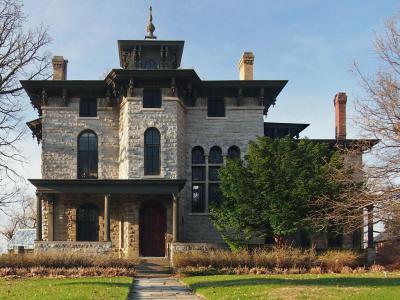 Burbank–Livingston–Griggs House, Minneapolis
The Burbank–Livingston–Griggs House is built from gray limestone and spans three stories. Built during the mid-19th century, the home features Italianate architecture. Over the years, the house has undergone renovations that resulted in three distinct units. With 8,000 square feet and a lot on 1.28 acres, the property is very impressive.

French and Italian boiseries dating back to the 18th century are present in eight rooms. The house also features a ballroom, as well as chandeliers, and a grand staircase. Marble and parquet floors are also present throughout the house, adding to the antique feel.

Because the house's three units are used as residences, visitors will see it from the outside. The building is open to the public only for special events. However, visitors will appreciate the chance to enjoy the outside of this house and take pictures featuring the exterior. The house is an impressive example of the type of architecture once prevalent in this city.
Burbank–Livingston–Griggs House on Map
Walking Tours in Minneapolis, Minnesota