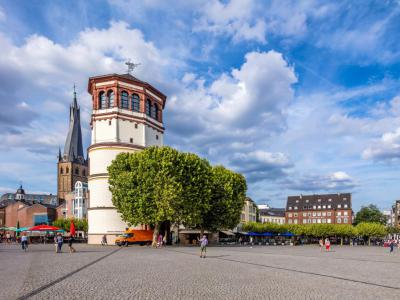 Burgplatz (Castle Square), Dusseldorf
(must see)
Castle Square is located on the Rhine River, near the location of the original town. This open space was named after Dusseldorf Castle, which was originally built during the 14th century. The castle was built to collect tolls, hence its location right on the river. Dusseldorf Castle was mostly torn down in 1892, and the remaining castle tower houses a museum.

Dusseldorf Castle and Castle Square were the city's center for centuries. When the castle deteriorated and was removed, Castle Square became a bigger, more open area. The area changed again when a busy highway was built here after World War II.

Finally, the area was redesigned in 1995 when the Rhine Embankment Promenade was built. Visitors can take a flight of steps to reach the Rhine's banks from Castle Square. The square often hosts different festivals and events and the open space offers visitors and residents a convenient meeting place.

The northern part of Castle Square faces the Rhine and the castle tower. The square is paved with cobblestones, which adds to its charm. The Radschlager fountain was added in 1954 and features a depiction of two cartwheeling boys.

Castle Square features the popular Wheel of Vision Ferris Wheel. This is a popular attraction day and night and offers a relaxing way to get the best views of historic Dusseldorf.
Burgplatz (Castle Square) on Map
Walking Tours in Dusseldorf, Germany