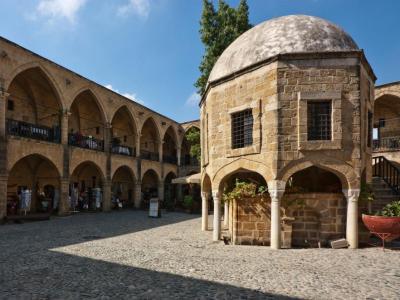 Büyük Han (Great Inn), Nicosia
(must see)
Great Inn is the largest roadside inn in Cyprus. It was built by the Ottomans in 1572, shortly after they expelled the Venetians. In the middle of the courtyard is a mosque and a fountain for religious ablutions.

The Great Inn was ordered built by Muzaffer Pasha, first ottoman governor. He got as far as the groundbreaking when he was executed. Politics was the cause, not construction. The roadside in was initially called the "New Inn." After the smaller Gambler's Inn was built it became the "Great Inn."

Under British colonial rule in 1878 the inn was restored and modified to serve as a prison. From 1903 to 1947 the place was put to its proper use as an inn. Between 1947 and 1962 it was low income housing.

The roadside inn typically has two floors and an inner courtyard. It is square shaped. The rooms of the inner courtyard have cross-vaulted colonnades. Altogether, there are 68 rooms on the two floors. The lower floor is used for commercial activity while the upper floor accommodates guests. There are ten shops behind the eastern colonnades.

The main entrance is on Asmaalti Square. There are hexagonal or octagonal shaped chimneys in each room. In the courtyard is a grave thought to be that of Muzaffer Pasha himself. This has been disputed, but who's to look?

By order of the Evkaf Administration all items sold in the Great Inn must be made by the tenants themselves. After the restorations of the 1990s, the inn has been reborn as an arts center featuring galleries and shops. In the courtyard are cafes and souvenir shops. If the Evkaf law still applies, tourists get the real thing. No Cypriot dolls made in China.
Büyük Han (Great Inn) on Map
Walking Tours in Nicosia, Cyprus