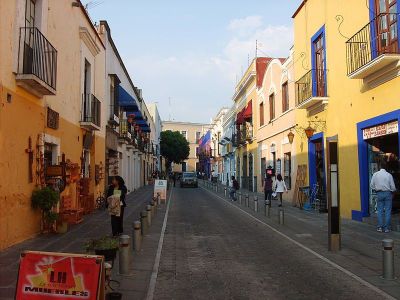 Callejón de los Sapos (Alley of the Frogs), Puebla
(must see)
The Alley of the Frogs (Callejon de los Sapos) is a popular street and square in the historic center of Puebla city and an ideal place for collectors and art lovers. It is the location of many stores housed in historic buildings. Most of these stores sell antiques ranging from furniture to books.

Along with the antique shops, the street offers outdoor entertainment on weekends. Musicians play open-air on Saturdays and Sundays while vendors sell handicrafts from outdoor booths. There are also several restaurants and cantinas for those who prefer drinking and dining.

The name of the street is believed to have come from the colonial period of Puebla. The story is that the alley was often flooded with stagnant water. It attracted a large number of toads, which caused locals to refer to it as Toad Alley.

The buildings themselves offer a marvel for the walking tour. They are designed with traditional colonial architecture and painted in bright blues, pinks, and yellows. A beautiful fountain in the middle of the square, along with a toad sculpture is a constant reminder of old times.

The Alley of the Frogs was built in 1849. A bullring was held in the plaza until it was demolished in 1867. Bullfighting gave way to shops and a weekend flea market that still exists today. Shoppers will find paintings, statuettes, postcards, collectible coins, and old records among the treasures.

The stores at the Alley of the Frogs are open daily from 9 AM to 5 PM. However, the square is available for visitors to enjoy 24 hours a day.
Callejón de los Sapos (Alley of the Frogs) on Map
Walking Tours in Puebla, Mexico