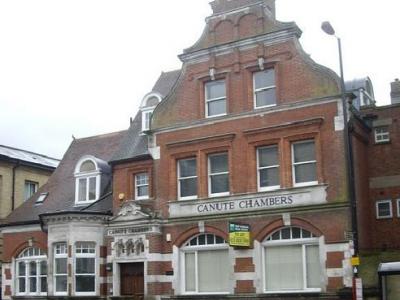 Canute Chambers, Southampton
Canute Chambers is a red brick building at the end of Canute Road. It's near the Souther Western Hotel and close to Dock Gate 4, where the White Star Line steamers tied up.

Most importantly, though, Canute Chambers was the Southampton company office for White Star Line. The company was based in Liverpool and was the owner and operator of the Titanic.

In this building, passengers could buy tickets and get information. Having a base and office in Southampton reduced customer travel time from London. It also provided the company an option to stop at Cherbourg, France, to pick up more passengers on the way to America.

The building was built in 1893 for the American Line, but White Star took over in 1907. White Star moved out in 1931, and the United States Line took over the building until 1969. Today it is still used as offices but no longer for shipping lines.

The White Star line was an immensely successful operator of several royal mail steamers (RMS) ships. The company was started in 1850 for service to Australia but was retooled in the 1890s to compete with Cunard Line's North Atlantic service. At its height, it was one of the most well-regarded shipping lines in the world.

The company is remembered for their innovative ship designs, including the RMS Oceanic and the three Olympic-class ships, Olympic, Britannic, and Titanic.

White Star's fortunes declined during the Great Depression, and it eventually merged with Cunard Line.
Walking Tours in Southampton, England