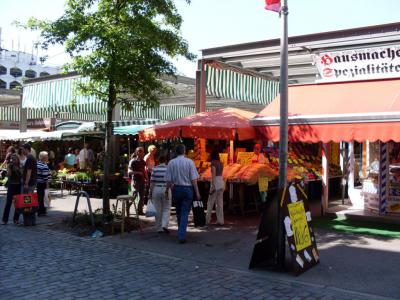 Carlsplatz Markt (Carlsplatz Market), Dusseldorf
Carlsplatz Market is the city's most important market square. The market has over 60 stalls that feature fresh fruit, vegetables, fish, meat, cheese, and fresh bread. In addition, visitors will find specialty coffee, desserts, and baked goods.

Carlsplatz Market also features gourmet ready-to-eat lunch options. Visitors will find local German specialties and international cuisine from India, Turkey, Italy, and France. The food is always fresh and seasonal.

Carlsplatz Market is named after Elector Carl Theodor. The Carlsplatz Square was built in the late 18th century and used as a parade ground during the French Occupation in 1797.

An annual market first took place in Carlsplatz in 1804. In 1808, Carlsplatz started hosting week-long annual fairs. The square began hosting a weekly market in 1910. The glass roof was built in 1998, and the glass pavilions were completed in 2002.

Carlsplatz Market is open Monday through Saturday.
Carlsplatz Markt (Carlsplatz Market) on Map
Walking Tours in Dusseldorf, Germany