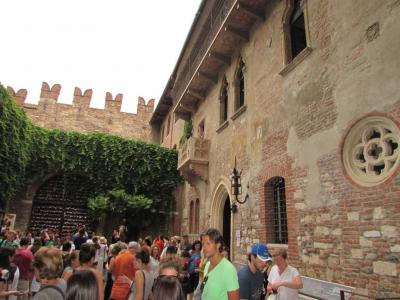 Casa de Giulietta (House of Juliet), Verona
(must see)
The House of Juliet, is a 13th-century structure situated on the remains of a Roman insula building on the Via Capello. It is located near well-known Juliet's Tomb.

Although many dispute whether or not Romeo and Juliet actually existed, the house remains a popular attraction that thousands of tourists visit each year. In fact, the house was formerly owned by the Capello family. Many guests write notes on the wall and the doors of the courtyard. From the balcony, one can even imagine ill-fated lovers talking to each other.

The dwelling contains a museum that displays frescoes, paintings, and artwork from the 16th and 17th century. One treat not to be missed is the bronze statue of Juliet. It is said that good luck will come to those who rub the right breast of the sculpture.

Entrance into the courtyard is free, but entry into the house is not. While the house tour is pretty basic, you can upgrade your ticket to include the tomb as the grounds are lovely and have some nice frescoes. If you want to avoid crowds, the best time to visit is in the early morning or late afternoon. Also, the whole area around Juliet's balcony – with its small medieval streets, restaurants, cafes – is enchanting.
Casa de Giulietta (House of Juliet) on Map
Walking Tours in Verona, Italy