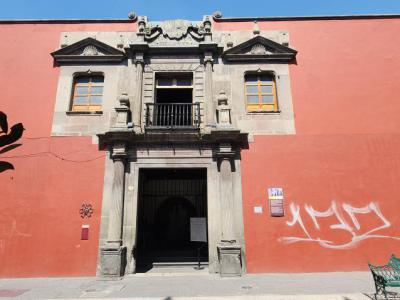 Casa del Dean (House of the Dean), Puebla
Undoubtedly, one of the many astonishing monuments of civil architecture worth seeing in Puebla is the Casa del Dean. The historic House of the Dean was built in 1563 and commissioned in 1580 (the date is engraved on the lintel of the window in the upper part of the façade), which makes it one of the oldest buildings in the city still standing and the first civil structure in Puebla. The mansion's name refers to its first owner, Tomás de la Plaza y Goes, dean of the Puebla Cathedral; at some point, the building was dubbed "The Sistine Chapel of the New World".

Among its original features survived to this day are the Mannerist façade, entrance hall, patio, staircase, two rooms on the ground floor and two more upstairs.

Inside the rooms there are unique murals from the 16th century, made by indigenous tlacuilos (ancient Mexican painters), depicting "The ride of Sibyls" (mythological women who received the gift of divination from the god Apollo) and "The Triumphs" located in the bedroom of Don Tomás de la Plaza. Although their presence in the house had been known since 1923, the murals were ultimately "discovered" only in 1953, under the wallpaper and several layers of lime paint, when the property was sold, in 1953, to house a cinema theater, and thus were saved from destruction.

Carefully restored under the direction of the owner, a cultured cleric steeped in the Renaissance spirit, these paintings represent rare examples of the syncretic decoration in the building that is neither ecclesiastical nor conventional, but civil, in which the Hellenic-Roman tradition joins with the autochthonous imagery of the already Christianized sibyls originating in the New Spanish culture.

Alongside the mythological or allegorical images there are also depictions of scenes from Mexican and international history combined with religious motifs, including those from the Holy Scriptures, especially the life of Jesus Christ and Mary, as well as the life and work of the founders of the religious orders in New Spain, venerated saints, etc.
Sight description based on Wikipedia.
Casa del Dean (House of the Dean) on Map
Walking Tours in Puebla, Mexico