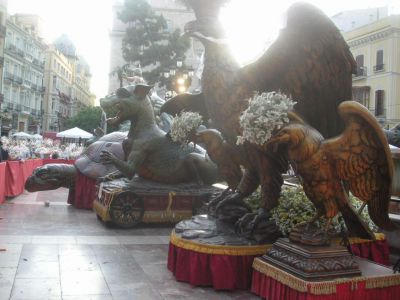 Casa-Museo de las Rocas (House Museum of Las Rocas), Valencia
This house museum is for displaying the famous "rocas" of Valencia. A Roca is a very special kind of carriage that is used like a modern day float for parades. They are of particular importance during the religious festivals of the area. Those events include parades for Easter, Christmas, and the annual "Mysteries of Christ" plays. The items on display tell stories about the history and culture of Valencia. For that reason, this museum is a very popular tourist attraction.

The building was first constructed in the 1400s. Upon entering the building, you will notice the downward slope from inside the building to the street. This was done to make it easy to get the carriages out of the building.

You will want to see the giant eagles on display here. There is a local myth surrounding the eagles and their connection to St. John the Evangelist. Make sure to check out the famous wooden sculptures.

Operation hours: Tuesday - Saturday: 10 am - 2 pm / 3 pm - 7 pm. Free admission.
Casa-Museo de las Rocas (House Museum of Las Rocas) on Map
Walking Tours in Valencia, Spain