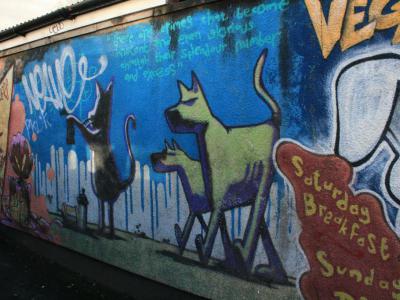 Cat and Dog, Bristol
If you find yourself in Bristol, you have the opportunity to witness the early artistic prowess of the renowned graffiti artist Banksy. One of his captivating creations, titled "Cat and Dog," can be found at the junction of Robertson Road and Foster Street in the vibrant neighborhood of Easton. This particular mural was crafted during Banksy's time as a member of the DryBreadZ Crew (DBZ), signifying an early milestone in his artistic journey.

The artwork itself portrays a cat holding an aerosol can, poised as if preparing to unleash its creative expression on the surrounding walls. Accompanying the feline are two guard dogs, their presence evoking a sense of tension and imminent action. The combination of these elements creates an intriguing juxtaposition between innocence and threat, a characteristic often found in Banksy's thought-provoking pieces.

Adjacent to the imagery, on the right side of the mural, you will encounter a profound quote that serves as a self-referential nod to the artist's work. It reads, "There are crimes that become innocent or even glorious through their splendor, number, and excess." This quote highlights Banksy's ability to challenge societal norms and provoke contemplation through his art, exploring themes of excess, rebellion, and the impact of scale.

Bristol, the birthplace of Banksy, proudly claims him as one of its own. His anonymous and subversive art has gained global recognition for its satirical commentary on contemporary issues and the establishment. As you explore the streets of Bristol, you may stumble upon other notable works by Banksy, making it a must-visit destination for art enthusiasts and admirers of urban creativity.
Walking Tours in Bristol, England