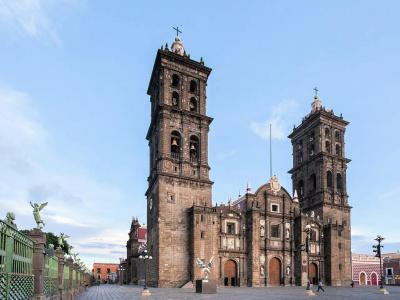 Catedral de Puebla (Puebla Cathedral), Puebla
(must see)
Puebla Cathedral (Catedral de Puebla) is the episcopal see of the Archdiocese of Puebla. The Cathedral was founded by King Philip II of Spain, and its construction began in 1575. It was consecrated in 1649 though it remained unfinished. The cathedral is also known as the Basilica Cathedral of Puebla or the Cathedral of Our Lady of the Immaculate Conception.

The Cathedral also functions as a museum. It holds multiple works of art, including paintings, sculptures, carpentry, and jewelry. Items on display include sacred vessels and crosses made with gold and encrusted with precious gems. Its historical archive has documents dating back to the founding of the city.

The first architect of Puebla Cathedral was Francisco Becerra. The indigenous Cholula and Tlaxcala participated in the construction of the Cathedral. In the mid-17th century, the architect Juan Gomez de Trasmonte took over the plans. Gómez de Trasmonte, who had served as Major Master of the Mexico City Metropolitan Cathedral, adapted the project, giving it a more classical appearance and a basilica plan.

Bishop Juan de Palafox y Mendoza joined the Cathedral around 1640 and ordered construction work to be finished. He used his own wealth and conducted fundraising in the form of tithes. The facade of the edifice was completed in 1664.

The north tower, also called Old Tower, was added in 1678. It is the only bell tower with ten bells in total. The most famous is the Bell Maria (Campana María,) weighing more than nine tons. The south tower was added in 1731. Both towers are about 230 feet high, being at the time, the highest in the American colonies.

Five daily masses are celebrated Monday through Saturday. The Cathedral celebrates 10 masses on Sundays. All guests are welcome.

Puebla Cathedral is declared a World Heritage Site by UNESCO.
Catedral de Puebla (Puebla Cathedral) on Map
Walking Tours in Puebla, Mexico