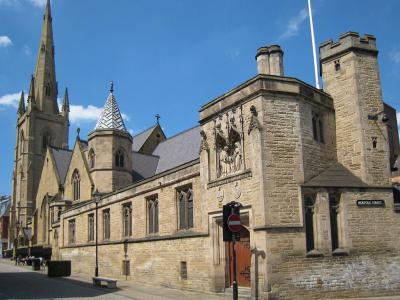 Cathedral Church of St Marie, Sheffield
The Cathedral Church of St Marie in Sheffield is a fine example of an English Roman Catholic cathedral. Its presence, just off Fargate shopping street, albeit slightly hidden from view, can be easily detected by a tall spire.

St Marie's was completed in 1850, designed by a prominent local architect, Matthew Ellison Hadfield, and was modelled on a 14th-century church at Heckington, Lincolnshire. The church was expensively decorated with the aid of generous donations from the Duke of Norfolk, his mother and parishioners. The total cost of the project exceeded £10,500, which is roughly £1.5m in today's money. In 1902, a new presbytery, now known as Cathedral House, was added.

During the Second World War, a bomb blew out stained glass windows in the Blessed Sacrament chapel; the remaining windows were removed and stored in a shaft at Nunnery Colliery. The latter was flooded during the war and the glass sunk in mud. Fortunately, despite drawings for recreating the windows were destroyed, it was still possible to re-install the windows in 1947.

When St Marie's was re-ordered in 1970, dark woodwork was removed and new lighting and benches were installed. In 1972, a new altar, in the Shrewsbury Chapel, was consecrated. St. Marie's was listed in 1973, and on 30 May 1980 became a cathedral.

During the most recent round of renovation, between September 2011 and November 2012, a collection of Nottingham alabaster carvings, previously hidden, dating mostly from the 15th century, were discovered and duly restored. Apart from these, the Cathedral's interior boasts a number of historic statues and painted tiles.

St Marie's is one of the few Catholic churches quipped for change ringing. The first set of bells here, made of steel, were installed in 1861; they were replaced with the bronze ones in 1874. Presently, the Cathedral has eight bells in the main ring, and the Angelus bell, dated from 1850.

In recent years, the temple has enjoyed significant public interest, partly as a popular concert venue, having hosted many of the finest choral ensembles in the world.
Sight description based on Wikipedia.
Cathedral Church of St Marie on Map
Walking Tours in Sheffield, England