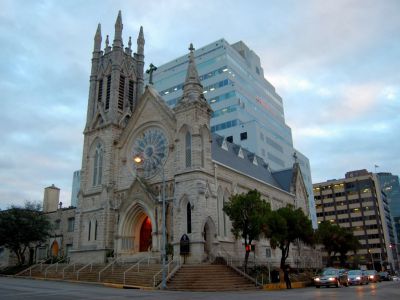 Cathedral of Saint Mary in Austin, Austin
(must see)
Saint Mary's is the cathedral church of the Roman Catholic Diocese of Austin. The origins of this temple date back to the 1850s, when the Catholic community in Austin built a small stone church, named St. Patrick's, on the corner of 9th and Brazos streets. In 1866 the church was renamed Saint Mary's, and the parish decided they needed a new building and could afford masonry construction. In 1872, after Austin was made the permanent capital of Texas, the parish laid the cornerstone for a new church, choosing a location one block north of the original building.

The parish had laid out a basilica-shaped foundation and begun raising the walls, which were 5 feet (1.5 m) high when the architect Nicholas J. Clayton began to design their new church.

When the new Diocese of Austin was formed in 1948, this became the cathedral of the newly formed diocese. At that time, the church was remodeled, many of its neo-Gothic decorations were removed, the neo-Gothic altars and altar rail were replaced with 20th century marble and the baldachino with its cactus and bluebonnets, evocative of central Texas.

Why You Should Visit:
If you're an architecture buff, this comfortably welcoming and beautiful classic Cathedral boasts a great deal of historic artwork to observe in detail: gorgeous stained glass windows dedicated to saints from old Europe, and woodwork.
And if you're a devoted Catholic, they do Latin Rite masses here, too.

Tip:
If you attend a Sunday mass, you'll feel like you are at a prayerful and inspiring concert.
Sight description based on Wikipedia.
Cathedral of Saint Mary in Austin on Map
Walking Tours in Austin, Texas