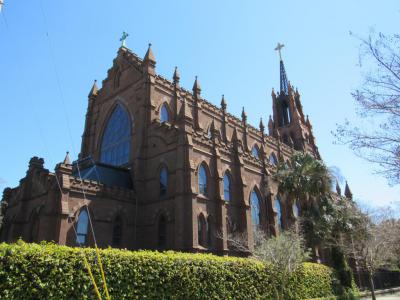 Cathedral of St. John the Baptist, Charleston
The first Cathedral of Saint John the Baptist, completed in 1854, stood as a remarkable specimen of Gothic architecture. Crafted from Connecticut sandstone and crowned by a 200-foot spire, it tragically succumbed to the devastating fire of 1861. However, by 1890, the reconstruction of an almost exact replica of the original edifice had commenced. The design, attributed to Patrick Kelly of Brooklyn, New York, closely adhered to the plans of its predecessor, except for the substitution of a square tower due to budgetary constraints.

It wasn't until 103 years later that a new spire, along with three bells, was finally added atop the tower, culminating the restoration of the historic structure. Comprising Connecticut brownstone, the newer building was eventually completed in 2010. The spacious nave, measuring 150 by 80 feet, is adorned with exquisite stained-glass windows and has a seating capacity for 700 individuals.

Why You Should Visit:
To admire one of North America's most splendid churches, with its unique stained-glass windows, altar, and architectural grandeur.

Tip:
Try to visit on a sunny day to fully appreciate the intricate patterns and colors of the stained-glass windows.
Cathedral of St. John the Baptist on Map
Walking Tours in Charleston, South Carolina