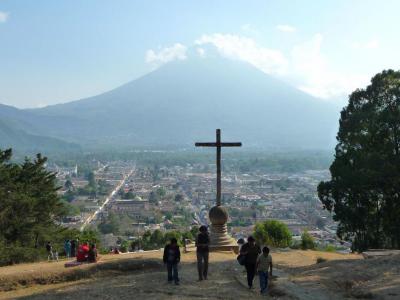 Cerro de la Cruz (Hill of the Cross), Antigua
(must see)
Cerro de la Cruz, or Hill of the Cross, is one of Antigua's most famous points of interest. The city's views that you can enjoy from the top of the hill are just one reason to take a climb here. In addition to the city, you will also have an excellent view of the volcano.

The walk to the top of the hill takes about ten minutes. Several noteworthy landmarks are within sight from the top of the hill, including Antigua Guatemala Cathedral. You'll also enjoy the cross that rises over the summit that gives this hill its name.

Although there are steps set into the hill's side, the hike might seem a bit strenuous. As an alternative to walking, you might consider having a local guide with a car take you to the top. You'll enjoy the same outstanding view while taking less time to get there.
Cerro de la Cruz (Hill of the Cross) on Map
Walking Tours in Antigua, Guatemala