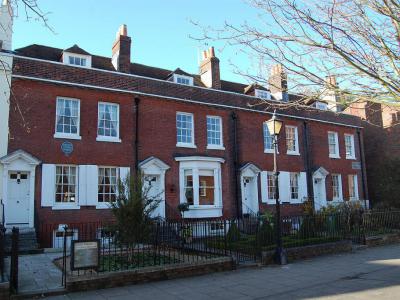 Charles Dickens' Birthplace Museum, Portsmouth
One of England's most famous and best-loved writers, Charles Dickens, was born at 393 Old Commercial Road, Portsmouth, on February 7, 1812. In those days, the street was called Mile End Terrace. The house number might have been 1, or it might have been 13. It has not been decided.

Charles's parents, John and Elizabeth Dickens, had come from London. John was a clerk at the Navy Post office in Portsmouth Dockyard. They had rented the house at Mile End Terrace in 1809. Charles was born here, but he did not stay long. His father had quite a collection of debts. They moved often.

Dickens' story, Nicholas Nickleby, tells of a debt-ridden father. Charles returned to Portsmouth at times to do his research. Today the house is a museum of Charles Dickens's life and times at Mile End Terrace. The decor within has been done with care, reflecting the once-popular Regency stylings.

The Exhibition Room features some of Charles' items, such as his snuff box and the couch he died on at 58. Ceramics, glass, inkwells, paper knife, and a slew of family photographs faithfully recall the middle-class tastes of the time. There are three furnished rooms: the bedroom Charles was born in, the parlor, and the dining room.

On the fourth Saturday of the month, volunteers show up in costumes. The Dickens Fellowship stages readings at 3 pm on the first Sunday of the month.
Charles Dickens' Birthplace Museum on Map
Walking Tours in Portsmouth, England