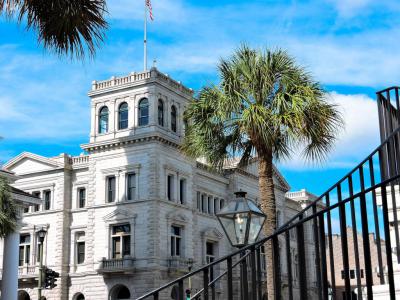 Charleston County Courthouse, Charleston
This Neoclassical building in Charleston was a likely model for Irish architect, James Hoban's most famous building, the U.S. White House, and both buildings are modeled after Leinster House, the current seat of the Irish Parliament in Dublin. George Washington liked the look of this place so much that he summoned the architect to Philadelphia, PA, in June 1792. The following month, Hoban was named the winner of the design competition for the presidential mansion in D.C.

An operational courthouse and museum wrapped into one, it makes for a nice short historical visit. The free self-guided tour is easy with tidbits of information given by the security guards. History echoes throughout, with original life-size paintings portraying patriots including President George Washington, Andrew Jackson and many other famous Americans.

The Declaration of Independence was read to Charlestonians from a second-floor porch facing Meeting Street, which unfortunately was lost to the ravages of time, but the law library is still in place and especially inviting, with wood panels, brass railings, and wall to ceiling leather-bound books in glass cases.

For history lovers this is a must-see.

Tip:
Make sure to walk into the bathroom which is retro and immaculate.
Charleston County Courthouse on Map
Walking Tours in Charleston, South Carolina