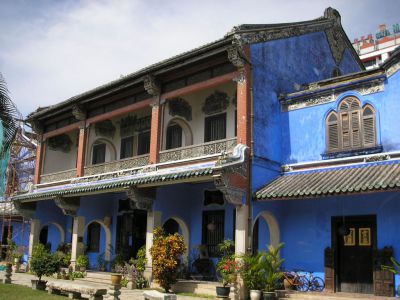 Cheong Fatt Tze - The Blue Mansion, George Town
(must see)
The "Rockefeller of the East", Cheong Fatt Tze, was a poor youth who fled the Second Opium War in Guandong, China. He found his destiny in Southeast Asia. He prospered as an industrialist, politician and philanthropist. His home in George Town was for himself, his eight wives, and six sons.

Cheog Fatt Tze's dream home mansion at 43 Leith Street in George Town is colored indigo blue. The color was chosen for serenity. The house is commonly called the "Blue Mansion." Construction was started in 1897 and completed in 1904. It has two floors, 38 rooms, five granite courtyards, seven staircases, and 220 Gothic louvered windows.

Cheong liked to work from home. The architectural style is eclectic, combining the Chinese concept of bilateral symmetry with western Gothic elements. Features include Chinese porcelains, Stoke-on-Trent floor tiles, Glasgow cast iron, and Art Nouveau stained glass. The building follows the principals of Chinese Feng Shui.

The mansion was bought from Cheong Fatt Tze's descendants in 1989. It was renovated in 1995 and it now operates as a museum and boutique hotel. Tours in English are offered three times daily. A restaurant named "Indigo" is on the first floor. The mansion has been featured in many films and on CNN, BCC, and the History and Discovery channels.
Cheong Fatt Tze - The Blue Mansion on Map
Walking Tours in George Town, Malaysia