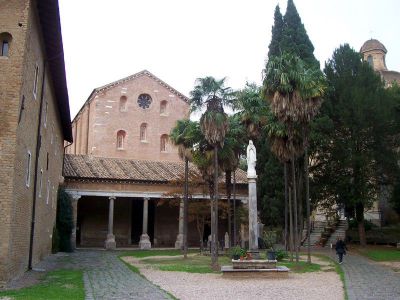 Chiesa di San Paolo alle Tre Fontane, Rome
The Chiesa di San Paolo alle Tre Fontane is one of the three churches in the Trappist Tre Fontane Abbey and is well worth a visit. The church is built on the site of what was once called Acquas Silvias, where St Paul was executed in around 67AD. Because St Paul was a Roman citizen he was accorded the somewhat dubious privilege of being beheaded rather than crucified. This was considered to be humane, as it was a quicker way to die and crucifixion was usually reserved for foreigners and criminals.

According to legend, when St Paul was decapitated, his head fell to the ground and bounced three times, whereby three fountains sprung up – hence the name of the church. Actually, as you will see, the fountains are about 20 ft apart, so the bouncing theory is somewhat impractical. Nevertheless, the first church was erected on this spot in the 5th century and was later rebuilt in 1599 by Giacomo della Porta. You will find the three fountains in the Sanctuary, but these days they are covered by altars to stop people drinking from them, as the water is polluted. In the nave you will see the perfectly preserved remains of the original mosaic floor.
Chiesa di San Paolo alle Tre Fontane on Map
Walking Tours in Rome, Italy
Useful Travel Guides for Planning Your Trip
---