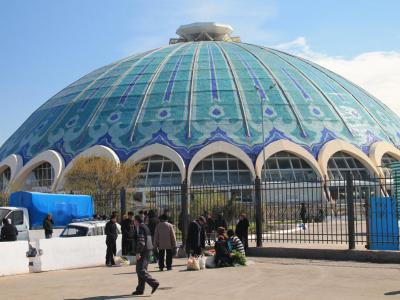 Chorsu Bazaar, Tashkent
(must see)
Chorsu (or Charsu) Bazaar, otherwise called Eski Zhuva Bozori, is one of the largest markets in Uzbekistan. It is also the oldest one in Central Asia, known since the Middle Ages as the great place to buy groceries and other daily necessities along the Silk Road. Centuries on, the place still buzzes with activity, being equally popular with locals and tourists.

The word "Chorsu" translates from the Persian language as "crossroads" or "four streams", and indeed, Chorsu Bazaar lives up to its name, located between Alisher Navoi Avenue, Farobi and Chakhchi Imom streets.

Albeit ancient as such (it has several buildings dating back as far as the 15th-16th centuries), the market these days is famous primarily for its modern central building with a signature blue-colored dome, designed in 1980 as the late example of Soviet Modernism.

The vast – some 350 meters in diameter – domed ceiling of the market is richly covered with ornaments. The building itself is quite monumental, comprising a three-tier structure with an elevator system. The lowest tier – the basement – contains utility rooms. Merchandise stalls are located on the middle and upper floors, divided into sections: vegetables, fruits, nuts, oriental sweets, spices, cereals, etc.

There are separate pavilions for clothing and household items. Also on sale here are a huge variety of unique handicrafts, such as carpets, national costumes, ceramics and other fascinating stuff and souvenirs fit to impress anyone.
Walking Tours in Tashkent, Uzbekistan