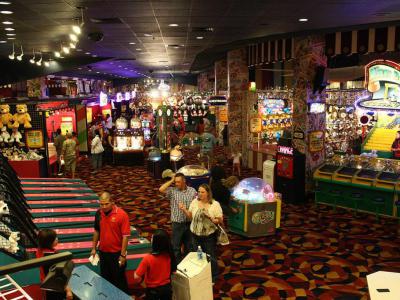 Circus Circus Casino, Reno
Circus Circus Reno is a well-known hotel and casino that serves as an anchor for a network of connected hotel-casinos in the downtown Reno core, which includes Silver Legacy Reno and Eldorado Reno. All three properties are owned and operated by Caesars Entertainment.

With a total of 1,620 rooms, Circus Circus Reno stands as the second-largest hotel in downtown Reno and the third-largest in the entire Reno area. The casino, covering an expansive 66,515 square feet, offers a wide range of entertainment options for guests. One of the main highlights of Circus Circus Reno is the free circus acts that take place regularly throughout the day, providing thrilling performances for visitors. These acts are held on the midway, where guests can also enjoy 33 carnival games, adding to the lively and festive atmosphere.

The main structure of Circus Circus Reno was originally built as a Gray, Reid & Wright department store, which was the sole department store in the state of Nevada at the time. It opened its doors on November 7, 1957, replacing a previous store location that had been destroyed by a gas explosion on February 5, 1957. The site of the former store is now occupied by the Palladio condominiums. When the Reno Circus opened, it featured a small hotel and offered similar attractions to its Las Vegas counterpart.

The hotel boasts three towers: the North Tower, the Casino Tower, and the Sky Tower. In 1995, extensive renovations were completed, including a remodel of the mezzanine level where the restaurants are located, as well as the midway. A sky bridge was also constructed to connect Circus Circus Reno with the neighboring Silver Legacy. The towers are connected by a custom-made monorail known as the Sky Tower Shuttle, offering convenient transportation for guests. Additionally, two trams, the north tram and the south tram, lead to the Sky Tower, further enhancing accessibility within the property.
Circus Circus Casino on Map
Walking Tours in Reno, Nevada