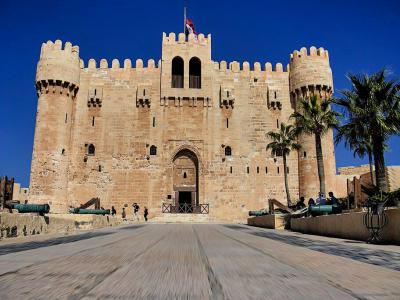 Citadel of Qaitbay, Alexandria
(must see)
The Citadel of Qaitbay is a 15th century defensive fortress located on the Mediterranean sea coast, built upon/from the ruins of the Lighthouse of Alexandria. It was established in 1477 AD by Sultan Al-Ashraf Sayf al-Din Qa'it Bay. The Qaitbay Citadel in Alexandria is considered one of the most important defensive strongholds, not only in Egypt, but also along the Mediterranean Sea coast. It was erected on the exact site of the famous Lighthouse of Alexandria, which was one of the Seven Wonders of the Ancient World. It formulated an important part of the fortification system of Alexandria in the 15th century AD.

The British fleet bombarded Alexandria violently on 11 July 1882 and damaged a large part of the city, especially in the area of the Citadel. This attack cracked the fortress, causing great damage. The north and western facades were severely damaged as a result of cannon explosions, aimed directly at the structure. The western facade was completely destroyed, leaving large gaps in it. Unfortunately, the Citadel then remained neglected, until 1904 when the Ministry of Defence restored the Upper floors. After the revolution of 1952 the Egyptian Naval troops turned the building to a Maritime Museum. The biggest restoration work dates back to 1984, when the Egyptian Antiquities Organization made ambitious plans to restore the fort.
Sight description based on Wikipedia.
Citadel of Qaitbay on Map
Walking Tours in Alexandria, Egypt