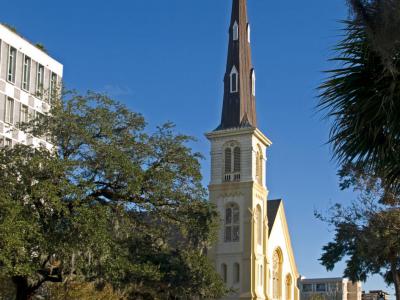 Citadel Square Baptist Church, Charleston
Founded in 1854 by twelve members from First Baptist Church, who were later joined by congregants from other Baptist churches in Charleston, this merged congregation wasted no time in constructing a new church building. The architects responsible for this new structure, Edward C. Jones and Francis D. Lee, designed it in what was described as a "pure Norman" style, inspired by the Romanesque architecture prevalent in France. Interestingly, their design predates the more famous work in this style by Henry Hobson Richardson.

The exterior features a massive gable roof facing Meeting Street, adorned with arched entries topped by elaborate Romanesque windows, including a stunning rose window. Unfortunately, the 224-foot spire was toppled by a hurricane in 1885; its replacement, a shorter late-Victorian version of the original, had to be replaced again following damage from Hurricane Hugo. In 1990, the congregation raised funds to restore the steeple to its original height, making some concessions in design to incorporate post-1885 alterations.

Inside the church, ribbed vaulting and plaster bosses adorn the ceilings, including the pulpit area, where an alcove was originally wainscoted in oak. At one point, the interior was painted to imitate stone.
Citadel Square Baptist Church on Map
Walking Tours in Charleston, South Carolina