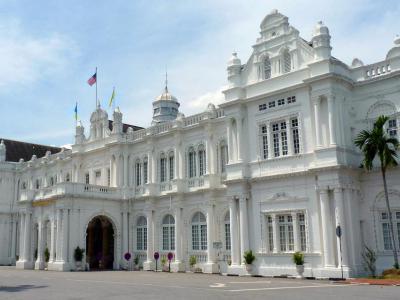 City Hall, George Town
The two-storey Edwardian Baroque Palladian City Hall of George Town has been a national monument of Malaysia since 1982. The building style is very similar to the Old Town Hall next door. The City Hall was last renovated in 2005. It looks the same as it did when it was built in 1903, except the original arcades on street level have been glazed.

The City Hall was built to replace the Town Hall as the new home of the Municipal Commission. Construction tenders were accepted in 1900. Lee Ah Chang, a Malaysian architect, won the contract. The new digs of the Municipal Offices was one of the first buildings in Penang to be equipped with electric lights and more importantly, fans.

Both Town hall and City Hall are on the shore and facing the main field ("Padang"). The City Hall is a masonry building, made with lime mortar, plaster and wash. It has granite columns at the entrance, and gratings of cast iron. Minton Geometric tiles in the interior match those of the Governor's house.

In 1957 George Town was declared to be a city by Queen Elizabeth II. The Municipal Offices building then officially became City Hall. In 1976 the George Town City Council was merged with the Penang Island Rural District Council. The result is the Penang Island Municipal Council, so the building is also called "Penang City Hall".
Walking Tours in George Town, Malaysia