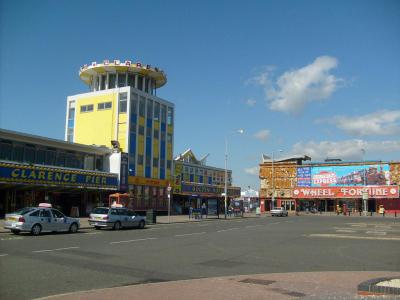 Clarence Pier, Portsmouth
Unlike most seaside piers in England, the Clarence Pier does not extend very far out to sea and goes along the coast. In 1861, the Clarence Pier was opened by the Prince and Princess of Wales. It sustained a regular ferry service to the Isle of Wight. The pier was demolished by air raids in World War II and reopened in 1961.

The Clarence Pier amusement complex has a yellow and blue pavilion and tower. Next to it is a similar building with an entrance to the park rides. The amusements work on a free admission, pay-as-you-go token system. The main building, called the "Golden Horseshoe," houses an amusement arcade and a bowling alley. There is also a Wimpy bar.

The smaller, neighboring buildings are in an arcade named the "Clarence Pier," which opened in 1958. On the side of the Funfair house is an arcade called "Games Wharf." There is also a pirate-themed miniature golf course behind the Clarence Pier arcade.

Operating Attractions include Trampolines; Seal Creek, a roundabout ride; Music Trip, a Miami-themed ride; Super Trooper, a paratrooper ride; Canyon River one-drop log Flume; Mad Mouse, a Cyclon coaster; and Tidal Wave, a Spinning Coaster. Dodgems, twisters, more golf (pirate themed), a carousel, and a waltzer are also on the list.

The attractions in use are far fewer than the former attractions they replaced. Ferris wheels have been planned. The Solent Wheel made a brief appearance and closed in 2021.
Walking Tours in Portsmouth, England