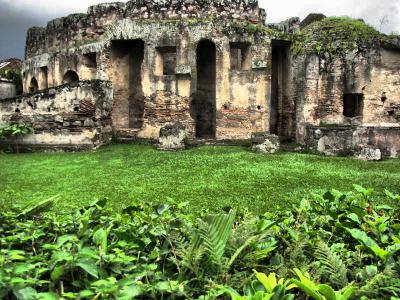 Convent of the Capuchins, Antigua
(must see)
One of the finest examples of an 18th-century convent in Guatemala, the Convent of the Capuchins was consecrated in 1736. In fact, it was the last convent to be built in the city, and the first one that stopped asking for a donation to the new nuns, allowing then poor ladies to embrace religious life. Daily routine for the nuns was ruled by strict regulations, which included, for some, maximum discipline on poverty, penance and fasting. Drinking chocolate was strictly forbidden and the requirement that they should survive on the tithing only.

Like the rest of the city, the building complex suffered damage during the 1751 and 1773 earthquakes, and was abandoned by order of the Captain-General at the time. Today, the monastery's well-preserved cells, gardens, and courtyards are open for public viewing and provide excellent photo-ops. Each twist and turn presents a view your camera will ache to capture! It's also interesting to see how small the cloisters were, and how the nuns lived during colonial times.

Tip:
The only guide is the map in the first room, so study it carefully! Don't miss the round room beneath the Nun's tower: sing quietly and be rewarded – the acoustics are incredible. The 2nd-floor art display is new and very nice, as well.
Convent of the Capuchins on Map
Walking Tours in Antigua, Guatemala